Are you keeping your body properly hydrated throughout the day? Dehydration can cause a whole host of issues, including fatigue, inability to focus, and headaches (to start), that could be avoided entirely if we just kept ourselves hydrated! A quick Google search will tell you that you should be drinking 2 litres of water per day, but I know many of us are not coming close to that.
If you have set the intention to increase your water intake as part of your healthy New Year habits, set yourself up for a win by making your water something you look forward to. This recipe is simple to prep in the evening before you go to bed, delicious, and has the added benefits of essential oils! Fruit infused waters are especially good if you are trying to kick a sugary drink habit, and I suggest alternating infused water with a freshly brewed black or green tea if you feel that you need the caffeine.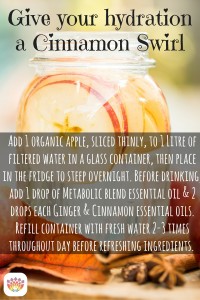 Not only is this a yummy combo (the apple, cinnamon, and ginger reminiscent of dessert, but enjoyed here without the calories!) but that's not the only reason I put these specific oils together.
Cinnamon Essential Oil is spicy, soothing and a great way to naturally support metabolic function and your immune system.
Ginger Essential Oil is another warming oil that is known to boost energy in the later afternoons and support healthy digestion.
The Metabolic Blend I prefer is a proprietary blend of oils including Grapefruit, Lemon, Peppermint, Cinnamon, and Ginger that is great for a revitalizing boost before a workout and perfect to promote a positive mood.
Please note that not all essential oils are created equal, and when you are ingesting them you want to be sure to choose oils that have been certified pure and therapeutic grade. If you are not sure where to get the good stuff, give me a shout!
Have you been able to increase your water intake using this recipe? That's awesome!! Be sure to share with your friends and family who might like it as well! Cheers! ~ Dr. Marissa