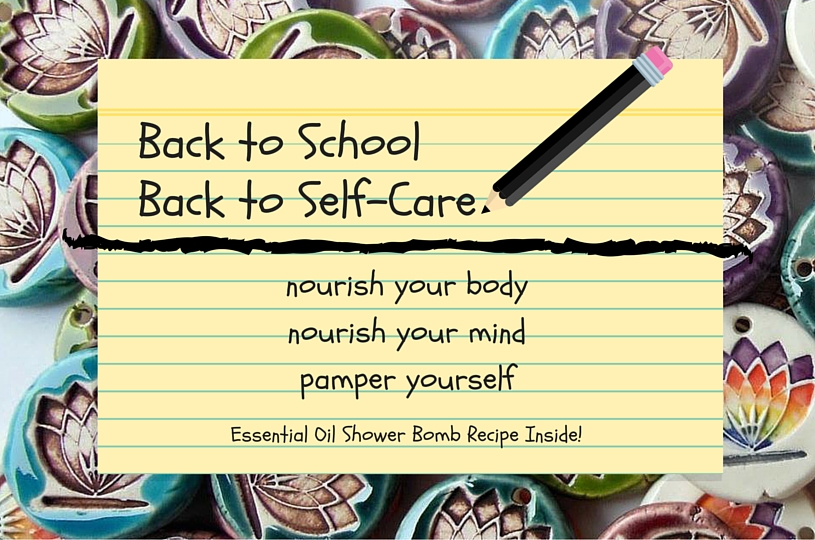 Ever notice that when the Back-to-School rush begins, your self-care routines come to a screeching halt? Don't forget that you take the best care of everyone when your own needs are prioritized!
But Dr. Marissa, how can I spend time on myself when so much needs to be done for my family??
I'm not saying it's easy. In fact, I think the idea of 'Balance' is as 'easy' as eating an entire whale — meaning it's not easy at all. And right now, school starting again is the whale. How are you supposed to get everyone back into that daily routine after a summer of being wild and free AND make sure you don't run yourself into the ground? Take this time of 'rush' one bite of whale at a time! Here are 3 ways to get Back to Self-Care during the back-to-school whirlwind:
Nourish your body ~ Focus on fresh foods. We all know that processed foods will leave you sluggish. Instead of picking up coffee and an egg sandwich from the convenience foods, make up a week's worth of smoothies on Sunday night and keep it in a pitcher in the fridge. Good quality protein powder, some fresh fruit, some coconut or almond milk, Peppermint essential oil, and if you need a little extra kick, some maca powder.
Nourish your mind ~ You've been over-stimulated all day. As tempting as TV may be, your mind really needs some time for peace before you lie down for the night. Instead of turning on electronics, grab an inspiring or fun book, or better yet, meditate for a few minutes. Give your mind the time to let go of the day.
Pamper yourself ~ If you really don't feel like you have time for books and meditation, find your quiet time in the shower. Try a shower bomb that will diffuse essential oils into the air that, together with the hot water, will soothe and calm you.
Shower Bomb Recipe
1 C baking soda
½ C Epsom Salt
up to 2 tsp water
Your favorite mix of essential oils (you will want around 80 drops total)
Combine baking soda and epsom salt in a large bowl.
Slowly stir in water a few drops at a time. You want the consistency of wet sand, so it will not feel wet, but will hold together when squeezed.
Once desired consistency is reached, stir in essential oils (I like lavender, peppermint & lemon myself).
Quickly push mixture into silicon moulds or greased ice cube trays.
Allow to dry for 24 to 48 hours before popping out of moulds and transferring to a dry glass jar to store in a cool, dry place.
To use, place one or two on the floor of the shower before you turn the water on. It will dissolve as you shower releasing the soothing fragrance of essential oils into the air! Enjoy!
Looking for great smoothie recipes and other ways to pamper yourself? Subscribe to my blog and newsletter!