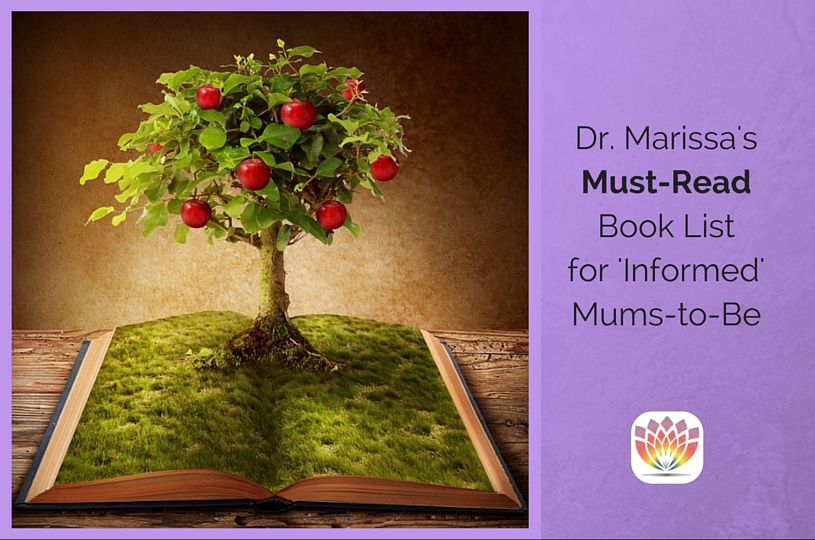 I frequently get questions from expecting mums about their health, the health of their baby, and how they can best prepare for labour and infancy. What's involved in a water birth? What's it like to give birth at home with a midwife? Do you need a doula? What kinds of vitamins should you be taking now? Should you take Lamaze? Hypnobirthing? Birthing from Within classes? The great news is that there are some fantastic books out there on pregnancy and infant care that are for the 'informed' woman who wants to trust in her own body and nature. Here is a list of books for informed mums-to-be. (And please note. "What to Expect When You're Expecting is VERY purposely not on the list!!)
The Thinking Woman's Guide to a Better Birth by Henci Goer
Henci Goer is a birth activist who recognizes that there almost as many opinions about the 'right way' to give birth as there are pregnant women. Goer provides you with all the options for giving birth to help you compare the pros and cons for yourself, especially when it comes to unnecessary procedures, drugs, restrictions and tests, as well as how to choose where to have your baby.
Ina May's Guide to Childbirth by Ina May Gaskin
Ina May Gaskin has seen it all in her 30+ years of experience as a midwife. She inspires women to trust in the ancient wisdom that their bodies instinctively have for natural childbirth. Ina May's Guide to Natural Childbirth is based on the Midwifery Model of Care and gives expectant mothers comprehensive information on everything from the mind-body connection to how to give birth without technological intervention. Ina May's guide includes lots of stories and inspiration as well as practical advice on a wide variety of birthing topics.
The Mother of All Pregnancy Books by Ann Douglas
I love Ann Douglas' approach to pregnancy. Yes, it's serious and a major life event, but it doesn't have to be all-serious all the time! She gets advice from over 100 parents as well as a panel of experts and approaches all the facts about conception, pregnancy and birth with levity. The 10th anniversary edition is easier to use, updated and has a new design from the original print.
"The Birth Partner" and "Pregnancy, Childbirth, and the Newborn – The Complete Guide" by Penny Simkin
Penny is considered the founder of the modern Doula movement. She's got years and years of experience in natural birth options and comfort measures that honour the mother and her experience, without neglecting her partner. These two books are my personal favorites, but really any book she has published is worth the purchase.
The Natural Pregnancy Book: Your Complete Guide to a Safe, Organic Pregnancy and Childbirth with Herbs, Nutrition, and Other Holistic Choices by Aviva Jill Romm
Aviva Romm has become one of my favourite experts on all things women's health related. She was a midwife and herbalist for 25 years who decided, in her 40s, to return to medical school at Yale University. She is now an Integrative Physician in the U.S. who continues to remember her roots (no pun intended!) in holistic health and offers balanced, brilliant advice on pregnancy, infancy, and well-woman care.
The Complete Book of Pregnancy and Childbirth by Sheila Kitzinger
There is a revised edition out where Sheila really hits on the sociological and anthropological aspects of birth, breastfeeding, and early parenthood and the birthing alternatives that are now available to women. She is candid, empowers women in their health and pregnancy, and no longer assumes that childbirth is the result of a heterosexual marriage, referring to a woman's "birthing partner", and really encourages creating a plan to help every woman prepare.
Gentle Birth, Gentle Mothering by Sarah J Buckley, MD
I love this book because she combines her practical knowledge as a doctor with her personal experience as a mother. AND she is considered a third-wave natural birth advocate. She believes in the "undisturbed birth" – that is, as little interference from modern technology as possible. She also addresses postpartum breastfeeding and some gentle parenting.
Birthing From Within: An Extra-Ordinary Guide to Childbirth Preparation by Pam England and Rob Horowitz
Birth is a rite of passage, not a medical procedure. That is the stance of Pam and Rob in this book. They encourage journaling, meditation, and other creative outlets as a means to help the expecting mother to analyze and address their thoughts and fears as they journey through the pregnancy. This book also addresses the father's role in all of this, as well as some newborn how-to basics.
Essential oils for Pregnancy, Birth and Babies by Stephanie Fritz
Stephanie Fritz is a midwife and considered the authority on the use of essential oils during pregnancy. If you are looking for natural alternatives to managing issues and discomfort during pregnancy and for infant care, you want this book.
I hope this list helps you make informed decisions about your health, and your baby's. But if you still have questions, please contact me! You can PM me on Facebook at Transformational Essentials or email me through my website.
Be well! – Marissa