Drop by Drop – Cassia Essential Oil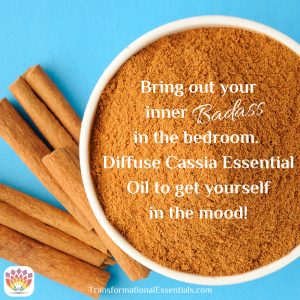 Yes, it's true, diffusing Cassia Essential Oil can help spark feelings of arousal, but the benefits of this oil don't stop there!
Since we already have our minds in the bedroom 😉 get our your favorite carrier oil, add a few drops of Cassia and enjoy a massage with your partner – you will love the warming sensation!
In the kitchen, Cassia essential oil can be used in a pinch as a substitute for cinnamon in pies and breads (or my Sweet Potato & Pear Roast), or as the main flavour in a host of entrees and desserts. Combine one to two drops along with Lemon in a glass of water to aid digestion or ward off hunger cravings* or put a drop in your water when hiking to support hydration.
Cassia is lovely to diffuse on it's own – I adore the warm, uplifting aroma -but it also blends beautifully with Citrus oils, White Fir, or (particularly in the fall) try it with Clove and Ginger.
When taken internally, Cassia may help to support healthy immune system function, promote healthy digestion, and maintain cardiovascular health.* To see these benefits, take one to two drops in a veggie capsule.
Not yet using Essential Oils? What are you waiting for! I'd love to send you a sample.
Are you in awe of the amazing power of Cassia Essential Oil? I know- me too! Be sure to share this under-rated oil knowledge with your friends!