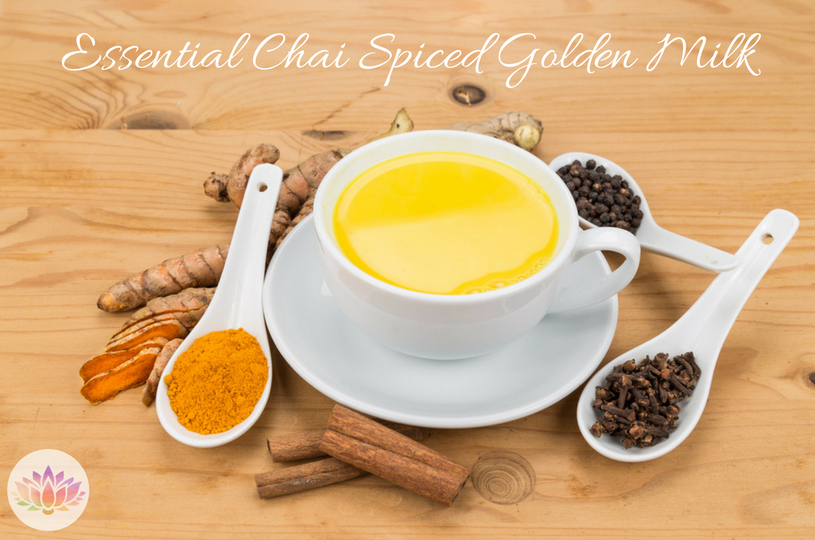 Ok, so you have probably seen at least a half dozen recipes for Golden Milk, am I right? Vegan, Hot, Iced – I know it's all been done. Well, now it has!
You see, I put a little bit of a spin on the traditional recipe people covet, and I'm going to be so bold as to say my little spin has made a big difference. Yes – you guessed it – I have spiked this recipe with immune boosting, mood enhancing essential oils. JUST what the doctor ordered as the seasons change, or really, any time of year!
Here's what you'll need:
Turmeric (Whole Root or Powder will work)

Ginger EO

Cinnamon EO

Cardamom EO

Black Pepper EO

Raw Honey+
Here's how it's done:
Place Almond Milk and Turmeric (about 1/2 inch, sliced or 1/2 tsp) in a small saucepan and heat gently – DO NOT allow your almond milk to boil, it will scorch! Place your desired amount of honey in your mug (1 tsp is what I would recommend) and then carefully add the essential oils (½ a drop per oil) to the honey and stir it up! Add heated milk to honey, stir until honey is blended into the milk and enjoy while still warm.
Why only need half a drop of each oil? The oils in this recipe are rather spicy, so less is definitely more! Too much cinnamon, ginger or black pepper could cause serious sensitivity, so be very careful when ingesting these oils.
But Dr. Marissa, how I get only half a drop of oil? Use a toothpick! Simply dip a toothpick (one per oil) in each oil, then stir it into the honey.
Benefits of Essential Chai Spiced Golden Milk:
What is it that makes Golden Milk so popular among health conscious people like myself? Due to the many benefits of the spice, people are searching out delicious ways to add more turmeric to their diets. Curcumin, the active ingredient in turmeric, is a powerful antioxidant that has been found to have anti-inflammatory properties which may help ease symptoms of arthritis, depression and more! 
It's important to note that in order to get the maximum benefits from turmeric, it must be combined with black pepper or ginger. That will ensure that your body can reap the full benefits of the curcumin in the turmeric.
But wait– there's more! I've given this recipe some extra umph by way of using essential oils instead of whole spices to add the chai flavour, taking golden milk to a new level of delicious, AND adding even more therapeutic benefits!
*Cinnamon Bark oil benefits the body by supporting healthy metabolic function while also maintaining healthy immune function. Watch this video made by my dear friend Karen Atkins for more benefits and uses.
*Cardamom is known for it's various benefits to the digestive system and is commonly used to help soothe occasional stomach discomfort. It can promote a positive mood and also has profound effects on the respiratory system, promoting clear breathing and respiratory health.
*Ginger essential oil can be used to ease occasional nausea and aid in digestion.
*Black Pepper essential oil is high in natural chemicals known for their antioxidant activity and ability to support the immune system. Internal use of Black Pepper essential oil can also promote healthy circulation and help the body support healthy cell function.
*Research courtesy of dōTERRA
+You can substitute the honey for your favorite liquid vegan sweetener, but honey was specifically chosen in this recipe for it's health benefits. 
Interested in trying this recipe, but haven't started using essential oils yet?
I'd be happy to get you started!
If you know someone who is trying to control inflammation in the most natural way possible, or maybe just someone who appreciates a good, spicy chai, please share this recipe with them!