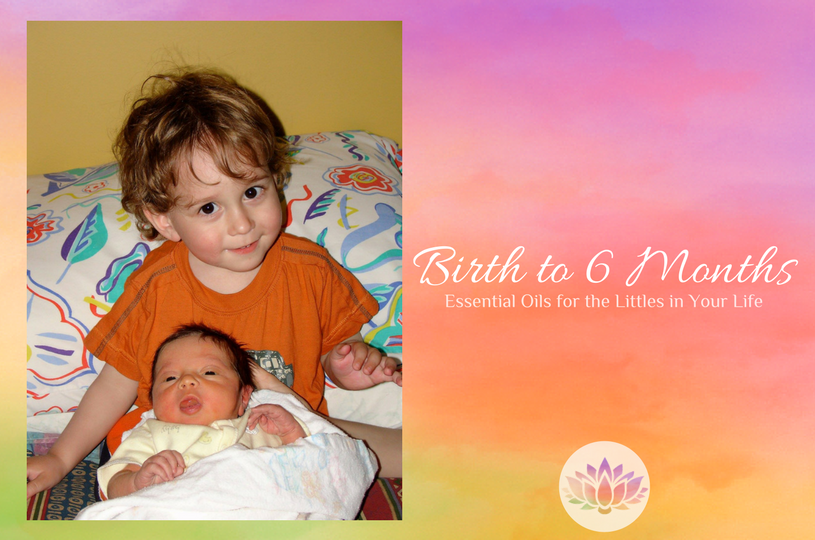 What about my Little Littles?
If you know which oils to use and how to use them, then you can start using essential oils with your littles from birth. What a relief, since it can be so hard to know what else is gentle enough for such wee babes!
Essential Oils Appropriate for Infants – What to Use, What to Avoid:
When I introduced this series, I advised that some oils be avoided in younger children. Specifically, the hotter, spicer oils, including, but not limited to: cinnamon, thyme, oregano, and cassia. 
Go-to oils I recommend to new moms:
Roman Chamomile

Lavender

Serenity blend

Melaleuca (Tea Tree)

Frankincense

Lemon**

Wild Orange**

Balance Blend

Myrrh
Breathe Blend**
DigestZen Blend
Fennel
Helichrysum
Ginger
Rosemary
These oils/ oil blends are safe, gentle, and effective for infants, and are versatile enough to cover many common health concerns in this age group.
Postpartum Infant Care
You now know which oils to use, so here are some of my favourite applications:
Align the Body – to align and balance babe's sweet little body, one drop of well diluted Balance on the bottom of the feet.
Umbilical Care – to help prevent infection and promote healing, apply diluted Myrrh oil daily on umbilical cord starting at one day old to help seal the tissue until the cord dries and falls off.
Sleep – mix up 5 tablespoons of  fractionated coconut oil with one drop each of Roman Chamomile and Lavender and store in glass roller bottle or Mason jar. This is perfect for a before bed massage to promote sleep.
Clear Excess Amniotic Fluid (Snuffly Sounding Babies) – blend either Breathe, Lavender and Melaleuca or Lemon and Melaleuca. Diffuse or dilute well and roll onto the bottoms of the feet. This is especially good for c-section babies!
Calming and Soothing – Frankincense, Lavender, Serenity, Roman Chamomile, Balance – any one or a combination of these oils diffused or really well diluted and applied to bottom of feet.
Cradle cap – Melaleuca and Lavender diluted with coconut oil will help heal and nourish the scalp. This has even been proven effective with very severe cradle cap.
Colic – massage 1-2 drops of well diluted DigestZen or Fennel onto baby's abdomen and bottoms of the feet.
Overall Well Being – right after birth, one drop of well diluted Frankincense can be applied to the top of the head and the base of the spine, and is safe to apply daily in the morning and evening down the spine.
Diaper rash – diluted Lavender for calming the skin, Melaleuca for yeasty skin, and Helichrysum for tissue repair. Beyond essential oils, it is important for baby to spend some time out of the diaper, and, since conventional moisture wicking diapers are full of chemicals and often cause more harm than good, look for a green alternative or opt for cloth. I also highly suggest using warm water on a soft cloth for making your own wipes over commercial wipes. You can also try these DIY Baby Wipes.
Common Ailments, Gentle Solutions
Again, when it comes to the littlest of our littles, proper dilution is crucial. Here are some simple remedies to get you started:
Earache – combine well diluted Melaleuca

 and Lavender

in a roller bottle and apply behind the ear and down the jaw line. NEVER apply inside the ear canal. For clear signs of ear infection, dilute one drop of basil with 1 tablespoon of coconut oil, and swab the outer opening of the ear (NOT the ear canal!) with the mixture on a Q-Tip

Constipation – Combine 1 drop of Ginger or Wild Orange** or Rosemary in 1 tablespoon of coconut oil. Choose one, dilute well, and massage on stomach and feet
4-Month Sleep Regression – be consistent (use the same oil each night), diffuse AND massage baby. Try Serenity Blend, Lavender, Roman Chamomile, or Frankincense. You can safely combine 1 drop of 2 of these oils, remembering to dilute well for topical application
Now that you have a guide for safely using essential oils with your newborn, along with a few DIY recipes to try, please share the knowledge with all the new parents you know! Knowledge is power, as they say, and when you know better, you can do better!
** These oils are photosensitive and should not be applied topically within 12 hours of sun exposure. Limit use of these oils to the bottoms of the feet and other areas that will not be exposed to sun.