I don't know about you, but I refuse to play Russian Roulette with my family's health when it comes to food! It feels like everything is bad for you, even the good stuff, so when I can, we consume the whole food in its natural state or as close as humanly possible.
This led me to trying my hand at homemade almond milk, which is surprisingly simple and not terribly time consuming. AND it has the added bonus of containing no carrageenan, added sugar, artificial flavours, food dyes or GMOs – which makes the hippie mama in me sing "Let the Sun Shine in" at the top of her voice!
So let's get down to the recipe, shall we?
Here is what you'll need for this Homemade Almond Milk:
Filtered water

Medjool Dates

Raw Almonds

Cheesecloth or Nut Milk Bags

Blender
And here is how it's done:
Place 1 cup raw almonds in a bowl, cover with water and then allow to soak for 12 hours.
Rinse and drain soaked almonds.
Once well drained, place almonds, 3 cups filtered water and 2-3 pitted Medjool dates (not only will this sweeten the recipe naturally, but dates contain important minerals) in your blender and blend on high for 1-2 minutes
Place cheesecloth or nut milk bag over a bowl then slowly pour contents of the blender into that bowl.
Close bag or cloth at the top and gently squeeze out all of the liquid.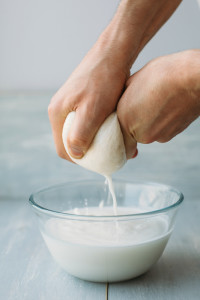 Voila! You now have your own, homemade almond milk, free from artificial additives! Kept in an air-tight, glass container in the fridge, your milk should be good for 3-5 days – but something tells me it won't last long enough to spoil, anyway! 
Trying to avoid processed foods in your home too, or maybe you know someone who is? Please share this recipe with them!