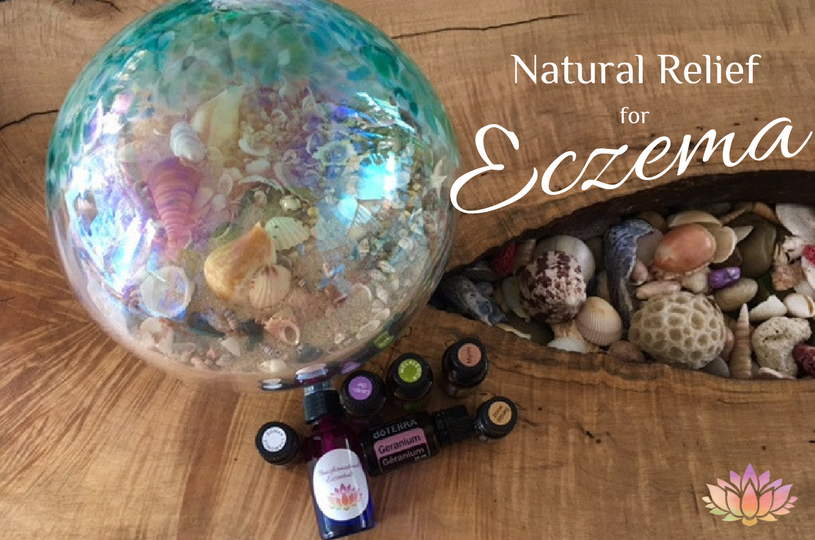 My Transformational Essentials Oil Tribe on Facebook is a really bustling group where anyone interested in natural health can ask questions, learn from, and support each other. In recent weeks there's been a small flood of requests for guidance on holistic support for Eczema from quite a few women. Many of these women are moms, like myself, who are searching for effective, gentle remedies that will not lead to secondary health issues. In my experience, trying natural options FIRST often limits the need to use other, more toxic solutions, but many people don't know what to try that's safe, effective, and easy to use. Here's some guidance on the subject!
What is Eczema?
Believe it or not, there isn't a clear cut answer to that question as Eczema presents differently from person to person. I can tell you that it's a chronic skin condition that most often shows up in childhood, but not always. It can be extremely itchy for some people, but much less so for others. While there is substantial variation in the symptoms, sure signs of Eczema include: dry and sensitive or red, inflamed skin; itching; dark coloured or rough, leathery, scaly patches of skin; oozing or crusting; and areas of swelling. People suffering from this condition may have all or just some of these symptoms when they are experiencing a flare-up. Your doctor may refer to Eczema as 'atopic dermatitis'.
Eczema looks a great deal like Psoriasis, another skin condition. The main difference between the two is that Eczema is transient (comes and goes), often clearing up entirely between flare-ups, while Psoriasis is a lifelong condition with often significant secondary health issues.
What Causes Eczema?
This question is hard to answer, making treatment somewhat tricky. Eczema is thought to be an overactive immune response to an irritant. The irritants that trigger these 'flare ups' can include upper respiratory infections or colds, stress, exposure to environmental stimulants such as extreme temperatures, soap or detergent, contact with animal dander or other common allergens like dust and mold, or even contact with rough or coarse clothing fibers. Food sensitivities are often at the heart of eczema, and many times are overlooked by the traditional medical establishment. This condition is often found in people who struggle with allergies and asthma, and can also be brought on by a hormonal imbalance.
What Can Be Done About Eczema?
Although it may not be easy to pinpoint, identifying your specific trigger(s) is a critical part of combating Eczema. If you can figure out what is triggering flare-ups, you can eliminate the triggers, or at least reduce exposure to them, resulting in fewer to no Eczema flares. But what if you can't pinpoint what is causing your Eczema? What do you do then?
Keeping your skin moisturized is something you can start doing right away to help ease the symptoms of Eczema. It's important to choose a gentle, natural moisturizer. Organic coconut oil is an excellent option not only because it is nourishing, but also because it has natural antibacterial properties and is great for healing damaged skin. To increase the healing power of coconut oil you can add a blend of essential oils for therapeutic benefit. Pure essential oils are gentle and natural, and can be a very effective support in the treatment of Eczema.
Not sure how much oil to use? Refer to my dilution guide!
Jojoba, Sweet Almond, and Sunflower Seed oils are also excellent options for dry, inflamed skin, so play with all of these options to find the one that works best for you. Also note that whenever you are trying a new skincare product, it is a good idea to try only one new product at a time, applying only a little bit on a small patch of skin. Observe that patch of skin for a day or two before applying the product on all affected areas.
Once your skin is soothed with a healing moisturizer, it's a good time to start making environmental changes, including your soap, laundry detergent, deodorant and cleaning products. Always opt for cleaners and soaps that are free from dyes, parabens, and other harmful chemicals. (If you are wondering why this is so important and what products may be gentle enough for you, consult the Environmental Working Group here). I really love the options dōTERRA has to offer when it comes to both non-toxic skin care and cleaning products for your home and clothing!
OnGuard Laundry Detergent – bio-originated (rather than petrochemical) ingredients leave clothes amazingly clean, with much less chance of the skin irritation that comes along with many detergents.
OnGuard Cleaner Concentrate – the ideal natural cleaner, there isn't much this concentrated cleaner can't do! Follow this link for suggestions from my team on cleaning your home from top to bottom with this one cleaner!
OnGuard Foaming Hand Wash – a gentle, healthy alternative to the harsh, drying soaps on the market, this foaming soap will actually help soften your sensitive skin.
dōTERRA Spa Moisturizing Bath Bar – this bath bar uses the natural cleansing power of essential oils, rather than harsh chemicals, to keep your skin clean and moisturized. 
dōTERRA Spa Hand & Body Lotion – the perfect lotion for sensitive skin because it's fragrance free! Made with gentle, natural ingredients that will smooth and soften your skin.
Let's not dismiss that little matter of STRESS, and how it can wreak havoc on so many aspects of your health! If stress is triggering your Eczema, no amount of environmental changes will stop your flare-ups. It would be best to get to the root cause and put some energy into stress management. I talk more about how essential oils can be used to support your mental and emotional health here.
If moisturizing, stress management, and environmental changes are not enough, I would suggest a more comprehensive change in your diet. Gut health is absolutely key to chronic health issues, including skin conditions like Eczema! Reducing or eliminating gluten, sugar, and dairy can also have an extremely positive impact on your overall health. Remember that we all have unique body chemistry, and what works for one might not work as well for another, so be sure to take the time to figure out what your body needs and is asking for! I've found this guide to an Elimination Diet that may be helpful to get you started.  You would also want to be sure you add a good probiotic into your supplement regimen and add anti-inflammatory foods to your diet, including turmeric and foods high in Omegas. If they're not palatable to you, or you have a picky eater on your hands, I highly recommend dōTERRA xEOmega for you or IQ Mega for children, as well as dōTERRA's PB Assist or PB Assist Jr. probiotic. 
Additional Resources:
A truly comprehensive look at the causes, symptoms, and treatments for Eczema was put together by Dr. Jockers. If you or someone you love is suffering, please take time to read through all of the information he has to offer here.
In addition, the National Eczema Association is a great place to go to help educate yourself on this condition. 
Managing any chronic condition takes time and patience, as well as some trial and error experimentation as to what works best for you. I hope the initial insight I've provided here will start to ease some of the discomfort you or your loved one have felt due to Eczema. Please feel free to share this article, and comment below if you have any questions or want to share the successes you're having!
xo Dr. Marissa
ps – I have some great recipes on balms, sprays and soaks I'd love to share with you. Submit your info below for my free tips for natural eczema relief!
Dr. Marissa's Natural Eczema Remedies
Get eczema relief with these sprays, balms and soaks!
Save
Save