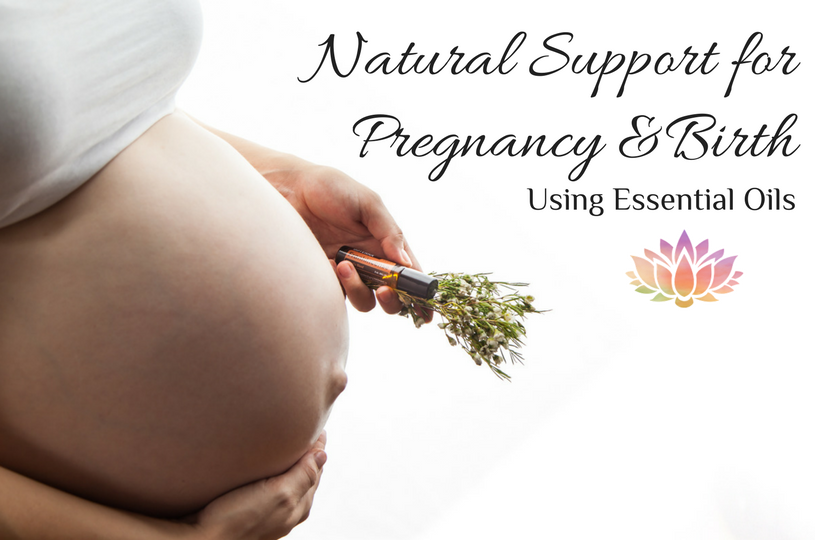 Welcome, sister! If you've found yourself here, I'm guessing that you either already use essential oils and are now pregnant (or hoping to be soon!) and want to continue to use oils through your pregnancy, or you're pregnant and brand new to essential oils, and looking for safe, natural options to support yourself and your growing babe. Whatever the reason, I'm glad you've found me!
In case you're new here, I'm Dr. Marissa Heisel, your Transformational Pathfinder here at Transformational Essentials – but that hasn't always been my title. I'm a holistic chiropractor who spent 9 years of my early career as a doula, which then led me to train as a midwife. After having my second babe I stepped away from midwifery and back into chiropractic care, where I was able to continue working with pregnant women, new mothers, and kids from birth through the teen years.
Safe Use During Pregnancy, Labour and Birth
Before I get into the specifics of which oils to use and which to avoid, I want to talk a bit about safety. Essential oils have been used effectively in pregnancy for thousands of years and by tens of thousands of women, and with a bit of knowledge, you can do the same! High quality essential oils are the most powerful botanical medicine I've ever worked with, and we want to treat them with respect. I always recommend that essential oils should be diluted for use, and when used during pregnancy and with our little ones, this is particularly important. Always use a carrier oil when applying essentials oils topically on your skin. If you choose to use dōTERRA oils internally during pregnancy, add a drop or two to a vegetable capsule. In some cases, it is best to choose a dōTERRA blend of oils over a single oil, for example, Deep Blue in place of Wintergreen, or OnGuard instead of Oregano. There are also some oils that should not be used during certain stages of pregnancy, like Clary Sage which should not be used in the first 36-37 weeks of pregnancy, but is a very supportive oil after that point. Please recognize that this blog is only a brief introduction to essential oil use in pregnancy and labour, and a good reference book is absolutely key for you to expand your knowledge and comfort level!
Pregnancy
In my experience, both personally and in practice as a doula, chiropractor, and in midwifery, I've found that pregnancy motivates many women to pay closer attention to what we put into and on our bodies. And with good reason – a whole new life is now depending on the choices we make! I've also found that this responsibility may lead to increased anxiousness for some mums-to-be, and while SOME anxiousness might be normal, there are many women who experience really significant levels of stress and anxiety while pregnant. We know that high levels of anxiety through pregnancy can contribute to babies born with a lower threshold for stress, meaning that it will take less to stress those kids out. Given the really high levels of stress and anxiety that we're seeing in even our youngest generation these days, we definitely want to find natural ways to decrease our own stress levels during pregnancy!    
This is why it's so important for both mom and baby to establish a healthy routine early on in pregnancy, both for mood stabilization and overall wellbeing. Here are my suggestions for daily use, from the earliest stages of pregnancy and right through into labour:
Balance Blend – When applied to the feet both morning and night, this grounding blend has a stabilizing effect on our emotional health, and will help ease the worry that may come with pregnancy.
OnGuard Blend – Use this one frequently for overall immune support. This blend of oils has been shown to protect our bodies against pathogens and potential environmental threats.
Frankincense – Just one to two drops under the tongue or in a veggie capsule in the morning and at night not only aids in immune support, but also helps to stabilize our mood, which we need in abundance while our bodies change during the course of pregnancy!
Grapefruit – Not only is grapefruit, like all of the citrus oils, superbly detoxifying as it aids in lymphatic drainage and kidney cleansing, but this oil can also be very stabilizing for gallbladder health (including gallstones) and supportive to progesterone in early pregnancy. I recommend 3-5 drops in a veggie capsule daily.
Lifelong Vitality Pack – This powerpack of three whole food supplements – Microplex VMZ, xEO Mega, and Alpha CRS – is incredibly beneficial to expectant mothers, because what better way to get all of the nutrients that you and your growing baby need than through whole foods combined in the perfect proportions! If you weren't taking these supplements prior to pregnancy I recommend starting slowly, as these are incredibly potent. If you're taking less than the full dosage, be sure to add in a natural source of folate or a folate supplement (not folic acid – a topic so important I will have to address it in another article). Also, if you have a history of depression or postpartum depression, please double up on the xEO Mega essential fatty acid; high levels of essential fatty acids have been shown to be protective against depression relapse.
TerraGreens – For proper baseline nutrition, add this powdered greens supplement to a daily smoothie or glass of water. TerraGreens is made with all natural ingredients to support your immune system and digestive health, and gives you an added whole foods boost.
TerraZyme – As the name suggests, this one is a digestive enzyme complex – perfect for keeping acid reflux at bay, and supporting the rebuilding of connective tissue.
PB Assist – I truly think that everyone needs a high quality probiotic, but during pregnancy it's absolutely vital! This is dōTERRA's exceptional blend of

prebiotic fibers and probiotic microorganisms in a double-layer vegetable capsule. It delivers 6 billion CFUs of active probiotic cultures to the gut to encourage friendly bacterial growth, aid in immune support, and help maintain a healthy gut:brain connection.
Now, what about concerns that are very specific to pregnancy? Let's dip our toes into some of the challenges that expectant mums might experience, and the natural ways we can ease these issues:
Morning Sickness – I was definitely fortunate not to experience morning sickness with either of my pregnancies, but I know I am in the minority with that! If you're struggling with morning sickness, add 2 drops of Lavender and Sandalwood to a carrier oil and rub over your abdomen.
Nausea – If you're able to keep things down but feeling very nauseous (which I definitely did during both of my pregnancies!), add one drop each of peppermint, ginger and cardamom in a veggie capsule, or add a drop each of Lemon and Ginger oils to warm water with a bit of honey and sip slowly. (This one is also great for indigestion!) Steer clear of carbs if you can, and add 60-80gms of good quality protein into your diet daily.
Low Energy – Many women experience extreme dips in energy in both the first and third trimesters. If this is happening, try Mito2Max, dōTERRA's energy and stamina complex,

to naturally support healthy cellular energy production, optimal mitochondrial function, aerobic capacity, and stamina (without the use of harmful stimulants like coffee or black tea).

Muscle Cramps/ Leg Aches/ Varicose Veins – This one may surprise you, but Lemon oil diluted with Fractionated Coconut Oil and rubbed on your legs/calves can really help with all of these issues. Deep Blue Touch in a pre-diluted roller bottle is also a great (and convenient) option.
Swelling/ Water Retention – When you can still see your feet but don't recognize them as your own, try 2 drops each of Lemon, Grapefruit, Cypress and/or Aromatouch blend in a carrier oil, rubbed onto your feet and ankles (and hands, too). These oils are wonderful for blood flow and the citrus oils aid in detoxification. Also be sure to elevate your feet as often as you can!
Stretch Marks – Try Immortelle blend, extra diluted with additional carrier oil, in a spray bottle. (Immortelle is also my oil of choice to help heal any incisions, such as after a c-section or perineal repair.)
Headaches – Persistent headaches tend to pop up at the very end of the first trimester or beginning of second trimester, and they can be intense! Because these are very likely hormonal headaches, adjusting the dosage of the Lifelong Vitality trio will often do the trick. You can also dilute a drop or two of one or more of the following oils, and apply on the back of your neck and down to your shoulders: Frankincense, Lavender, PastTense, or DeepBlue.
Bonus – Not only is the use of essential oils during pregnancy the perfect way to support your body and the new life you're building, but the simple act of applying the oils is a great way to bond with your baby! When I was pregnant with my babes I was not yet using essential oils, but every day I would use a natural massage oil and spend a few minutes after I showered massaging my belly and connecting with my growing babe!
Labour and Birth
The moment you've been waiting for! Time for your sweet baby to enter the world! To prepare for labour, the first thing you want to do is address the topic of essential oils with your care provider. Not all midwives or medical doctors are up on essential oils, so you'll want to have this conversation and possibly educate them on the use of essential oils during labour and birth well before your water breaks. You'll also want to ask the hospital or birthing center about bringing a diffuser along with you – that is, if you're not planning on a homebirth. If you're not able to bring a diffuser with you, a good option is to wet a washcloth at home, add the oils of your choice, and then store and label in small zip baggies.
Now, what oils will be most beneficial during labour? It certainly depends on what you are experiencing, but here are some suggestions:
To promote Confidence during labour – Balance or Wild Orange applied topically or diffused.
For an Energy boost, try Wild Orange and Peppermint.
Uplifting Mood – Labour is definitely emotionally charged! To raise your spirits, go for Peace, Elevation or Citrus Bliss.
Focus – During labour it can be a challenge to stay focused and on task. I've seen a lot of women say "I can't do this!", so to really dig deep, try Motivate and Cheer blends together.
Swelling/ Bruising – Helichrysum oil is not only helpful with the perineal swelling and bruising that can occur during labour, but it also has a contractive effect and stimulates circulation.
Anxiousness – Serenity blend is great to help ease the anxiousness that can sometimes accompany labour.
Back Labour – If you're experiencing back labour, don't be afraid to bring in the 'big guns' like Deep Blue, PastTense and Peppermint. If someone is supporting you during labour, make sure to have Fractionated Coconut Oil available so they can apply these oils for you with ease!
Stalled Labour – Clary Sage can stimulate and strengthen contractions and may help facilitate birth. Remember, this is not an oil you would use throughout pregnancy because of the risk of stimulating early labour, but at about 37 weeks it is a wonderful uterine tonic when applied to the bottom of the feet.
Full Bladder – Often a full bladder can cause labour to stall, which may lead to catheterization. Before it comes to that, try the Peppermint trick – place 2-3 drops of peppermint oil in the toilet bowl. Both the aroma and the chemistry of Peppermint can be stimulating enough to help many women empty their bladders!
Surprise Breech – As per Stephanie Fritz, a practicing midwife who has attended thousands of home births, if babe seems to be in position but ends up actually being breech, applying Peppermint and Myrrh diluted with Fractionated Coconut Oil in an arch across the top of the uterus from hip bone to hip bone can be effective to help baby turn. I haven't personally seen this in practice, but it situations like this, use what you have available!
Perineum support – A warm wash cloth covered in Fractionated Coconut Oil and Helichrysum and held on the perineum when baby is very low may help minimize swelling and tearing, and will potentially prevent bruising to the baby's head. Your midwife may prefer this one in a spray bottle, and that will work as well.
Muscle Pain/ Nausea (once labour has started) – Mix 4 drops Helichrysum, 2 drops DigestZen, 2 drops Peppermint, 5 drops Ylang Ylang and 2 drops Clary Sage with a carrier oil and apply to the inside of the ankles, lower abdomen, and low back. Prepare this one in advance in a spray bottle and have with you in case you need it!
Additional Resources:
I've also filmed a class on this topic, so if you are more of a visual/ auditory learner you will find that video here: http://bit.ly/FreeEssentialOilClasses.
In preparation for this article and the class I taught, I consulted with Stephanie Fritz, a full time homebirth midwife and leader in dōTERRA. I frequently recommend her book, Essential Oils for Pregnancy, Birth, and Babies, so it seemed appropriate to get her guidance before putting out my own thoughts and experience on this. If you'd like to have a copy of her book (and if you are pregnant or expect to be, you'll definitely want one!) you can purchase it here: http://bit.ly/SFritz-EOPregnancy-Birth-Babies
Thank you for reading my introduction to the use of essential oils for pregnancy and labour. If you have any questions, please leave a comment below, or join my Facebook group here: http://bit.ly/TE-OilTribe.
Cheers to you!
xo Dr. Marissa
Already had your babe? Stay tuned for my article on Postpartum and New Born Care!