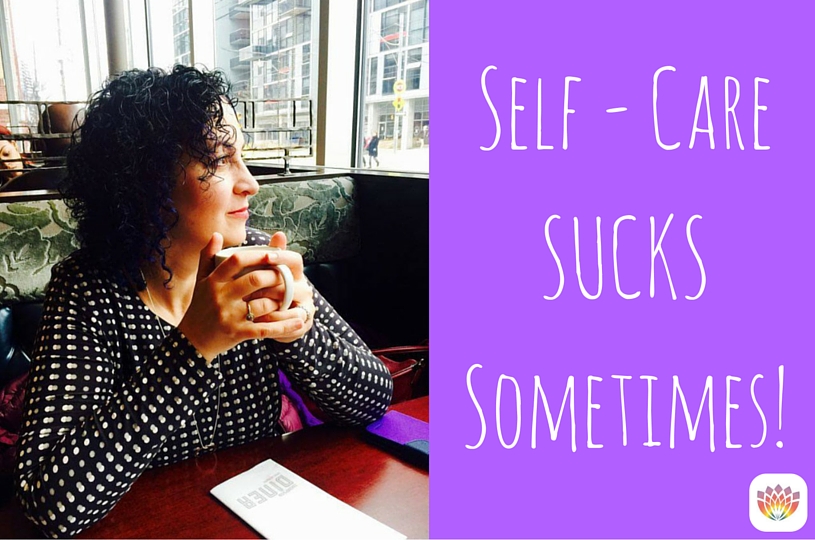 Every professional in the wellness world preaches about self care. I am constantly reminding my patients, biz team, and friends about creating space to be good to themselves. For the life of me I cannot figure out why we women have to force ourselves to think about our own care first! Why are we constantly talking ourselves out of – or back into – being kinder to ourselves?? Today, I'm both asking you to make self care more important in your life, AND telling you that it's okay to occasionally give yourself a break because sometimes, self care really sucks.
There's a part of self care that's warm and fuzzy. It's the massage, the acupuncture treatment, the haircut, the things that bring instant gratification and feel so good in the moment. But the kind of self care which experts are talking about are the wellness habits that have long term benefits. We cut sugar out of our diets now to reduce inflammation which can lead to arthritis later. We lose weight to reduce our risk of heart disease and improve hormonal balance. We eat more dark leafy greens, and exercise 4-5 times a week. We drink more water.
Sometimes, though, while we develop really fantastic habits around these methods of self care, the truth is that a glass of water is just not what we want or need. Sometimes I want to give making healthy choices the middle finger salute and curl up in a soft chair with a good book and a big mug of hot chocolate with 2 inches of whipped cream on top. And you know what? Sometimes, that's exactly what you actually need to do.
Let's get something straight: I'm not suggesting you have hot chocolate every day. That's the imbalance you're trying to get away from when you adopt healthy self care habits! But once in awhile, that hot chocolate is just as much self care as the kale salad you're probably eating while you read this. We have to stop beating ourselves up altogether, and give ourselves permission to just BE. There's a lot of value in just BEING. And if that means hot chocolate, do it right. Make it the good cocoa powder and milk that you cook on a stove. Then you're getting the real stuff AND you're making it less convenient to do it again tomorrow.
Healthy self care isn't supposed to sound like someone inside your head yelling out drills to drop and give them twenty. And it certainly should not involve scolding or shaming. That just creates stress. But if you've established really good habits, don't look at one day of flipping the bird at kale and water as a reason for self-loathing. Taking a day off is self care too. Your body, mind and energy will only benefit from being healthy if you have a healthy – that means positive – attitude about it. Building healthy routines isn't easy so show yourself some love for every hurdle you make it over and don't beat yourself up on days when you walk around them instead.
Does what I described here sound like someone you know? Share this with them! Share it on your Facebook page, and let's help all of our Sisters take care of themselves!