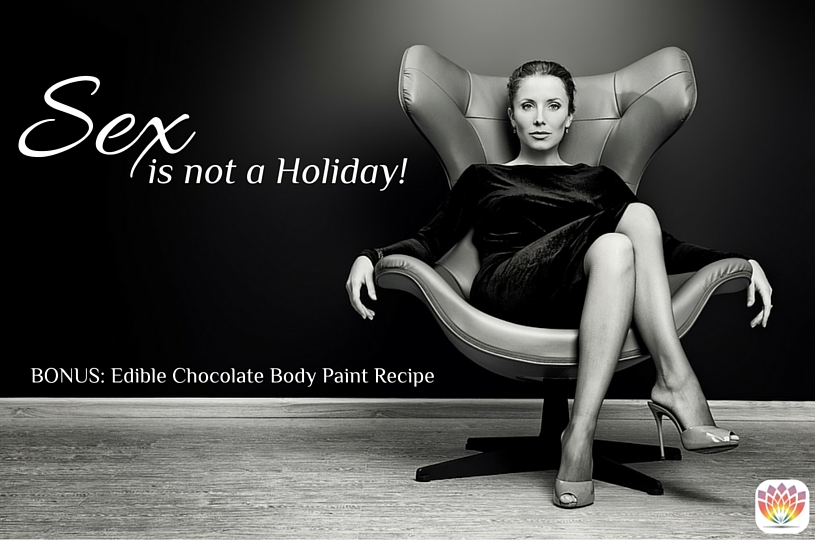 Are you planning on a crazy, sexy night as part of your Valentine's Day celebrations?
Let's be clear – I don't go nuts over Valentine's Day. It's a day created by a greeting card company, yet so many people get so caught up in it. We create all this pressure in our relationships to have sex on Valentine's Day, as though if it doesn't happen then it isn't going to for another year! But sex doesn't need a timeline, or a specific day to occur. Sex can happen at any time. Sex is about loving ourselves and having the courage and vulnerability to love our partners.
Sex is Self Care
I don't think it's anyone's intention to save up their sex credits for Valentine's Day. Believe me, I get it – life gets busy, so busy that self care falls off our radar. Sex is a very big part of that self care and we forget that in the rush and push of our lives. (Trust me. I know this too well myself, sometimes.) But bonding with our partners, and the power that happens when women free ourselves to be passionate creatures with our partners, is just as important as eating right and sleeping enough. Enjoy your sexuality – have fun with it!
Sex is Attitude
Attitude plays a huge role in sex. It's not a chore that falls after putting groceries away. It is the single greatest way for two consenting adults to really connect physically, emotionally, energetically, even spiritually. It's also not something you should simply "let happen" to you so you can satisfy your partner's needs while completely ignoring your own. It's about communication so that you have pleasure, too. Instead of worrying about your sex drive or possible lack of libido (again, when we get too busy or stressed that tends to go out the window), slow down and pay more attention to pleasure, to what feels good.
Sex is Power
There's power in sex, too. I think many women forget how powerful you feel after a good back-arching orgasm. Sex is about feeling good about YOU! It's about reclaiming that wildness in you, that "I am woman, hear me ROAR!!" sensibility. And, like all power, you don't need someone else to give it to you. Sure, it's nice to let someone else do all the work, but you are perfectly capable of making yourself feel hot and frisky. Some of the best orgasms happen when no one else is around and you feel just as powerful afterward!
Sex is YOU
Some women feel uncomfortable with getting dressed up and looking sexy. I think we've bought into a lot of stereotypes about women and sexuality, and many of them have actually served to disempower us. But we don't need to dress up for anyone else, either. Don't you dress up for yourself sometimes, to go out for a night on the town with your girlfriends? Think about how on top of the world you feel when you get dressed up in your favorite dress and jewelry, and you know you look so good you can make your photograph your new Facebook profile pic. That's not about anybody else – that's about YOU. Seeing YOU as power and sex and divine feminine.
Now, can you also do that for yourself in a teddy and six-inch heels??
Slip into that lace and satin – feel how good it feels on your skin. Roll up those thigh highs and strap on your heels! When you're all dolled up, look at yourself in a full-length mirror. Admire your curves, FEEL how beautiful you are – how powerful you are.
Sex is FUN!!
Here's an idea: make up a batch of edible chocolate body paint (recipe below), walk into your bedroom while your partner is watching the game, and start painting – you, him/her – whomever! I bet before you know it they've lost interest in the game and have risen to the occasion. *meow!*
Sex is an expression of our primal selves. I believe that if you create time in your life with your partner to (temporarily) abandon your role as wife, mother, caregiver, etc. and let the passionate, powerful being inside you surface for a few hours, you might find your partner digging deep into his or her own well of primal urges to meet you where you are. More importantly, you just might find YOURSELF. I can definitely appreciate an EXTRA day to express love through gifts, like on Valentine's Day, but we really need to be careful about creating expectations and making it the ONLY day that happens. There's a spark of the divine that you recognize in certain acts, including a healthy, loving, passionate, SEXUAL relationship. If we claim that power for ourselves, not because you have to go have sex with your partner, but claim it to empower YOURSELF, it's about your own wellness. Remember, no matter what, that you are loved for the beautiful, unique creature that you are.
Now go on, Sex Kitten!!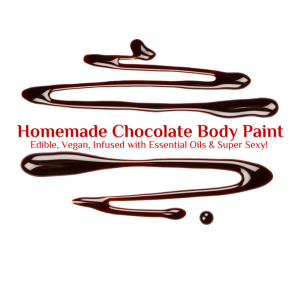 Ingredients:
3 TBSP Water

Pinch Himalayan Salt

2 TBSP Coconut Oil

⅓ Cup Raw Sugar

¼ Cup Raw Cacao Powder

½ tsp Vanilla Extract
Method: Add water, salt, and sugar to a small sauce pan without stirring. Heat gently until the mixture comes to a boil, and again, DO NOT STIR; turn the temperature to low and allow to simmer until all of the sugar granules have dissolved (watch very closely and don't be tempted to stir), then remove mixture from the heat. Add coconut oil and whisk until smooth, then add cacao powder and vanilla and whisk until again smooth. While still warm, divide into small jars then in each jar use a toothpick to add a half drop of…
Cinnamon essential oil, to spice things up! One of my absolute favourites, cinnamon supports a healthy immune system* and metabolic function*. You can also place a drop in hot tea to soothe your throat*.
Wild Orange and dark chocolate pair perfectly for this recipe! Wild orange essential oil is energizing and supports overall health and healthy immune system*.
Lavender essential oil is widely used for it's calming and relaxing qualities, but also to reduce the appearance of skin imperfections and minor skin irritations.
Spearmint essential oil, for a lovely, cooling effect. Spearmint promotes focus, uplifts mood and may help reduce occasional stomach upset*.
*Statements not evaluated by the FDA. This product is not intended to diagnose, prevent, treat or cure any illness.
Share this with all the women you know and love that need a little nudge to tap into their inner sex kitten!