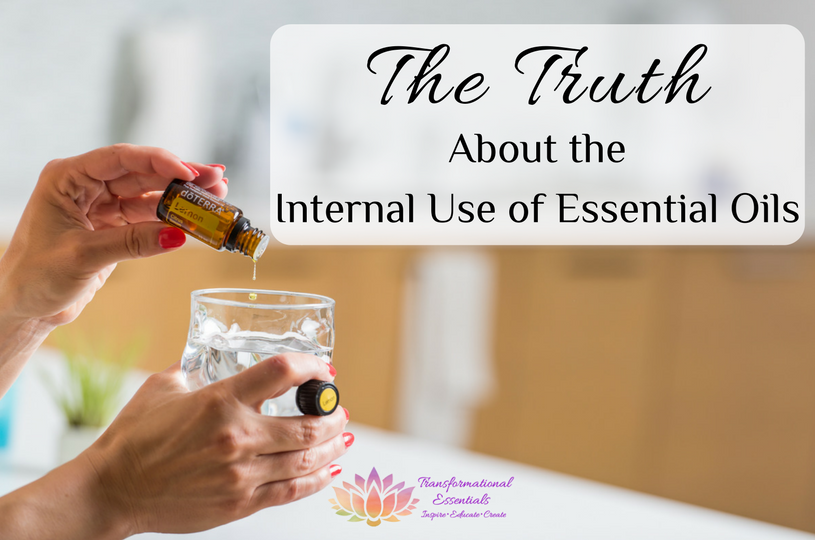 There is a good amount of talk among essential oil users and educators about ingesting essential oils. Is internal use safe? Which oils can be ingested? Are there any risks? The answers to some of these questions are highly debated within the essential oil community. If you ask a Certified Aromatherapist, most will tell you NOT to ingest essential oils, but as a doctor, I am going to boldly disagree. Here's why…
Can Essential Oils Be Ingested?
Yes! While aromatic and topical use are very effective and often all that is required, there are simply some times that internal use is the way to go. Not only do I use essential oils internally myself when it's warranted, but I also recommend this mode of use to my essential oil community and patients.
When & How Should Essential Oils Be Used Internally?
Our skin absorbs upwards of 60% of whatever we put on it, so you may think "why not just stick to topical application?" Another good question! Simply put, there are times that internal use is highly effective for healthcare purposes. Studies have shown that essential oils actually protect the mucosa in our bodies. In the stomach, for example, the limonene found in citrus oils has a positive effect on the mucous membranes without impacting normal stomach acid secretion. This leaves me with the question, "why wouldn't we want to further support our bodies by way of careful, internal use of pure, therapeutic grade essential oils?"
Which Oils Can be Safely Ingested?
First – essential oils are considered GRAS (Generally Recognized as Safe), but that is not a green light to ingest ANY essential oil you have lying around! I exclusively use and recommend dōTERRA because each batch is rigorously tested for purity and quality. That said, there are some essential oils that should NEVER be ingested, like most tree oils, and several of the blends that dōTERRA produces, such as Deep Blue. If you are using dōTERRA oils you can pick up one of several reference books I recommend in my Essential Oil Resource Guide, or refer to dōTERRA's website for clear guidance: https://doterra.com/US/en. No guesswork required!
How to Safely Ingest Essential Oils
Now that you know to source your oils carefully, and which can and cannot be ingested, you are probably wondering HOW to use them internally. First – never just throw a drop of pure essential oil into your mouth! Essential oils should always be diluted, no matter which mode of use you choose. That said, there are a few simple and efficient ways to safely ingest essential oils:
Add one to two drops to a full glass of water (citrus oils or the Slim & Sassy Blend are lovely for flavouring your water)

Add during food prep when cooking or baking

Make your own custom blends in veggie caps

Take dōTERRA softgels, such as Serenity, Triease, DigestZen, and On Guard
Please also note that you will want to keep essential oils away from your eyes, ears & nose. A roller bottle blend is the safest, easiest way to apply oils when your need is in those sensitive areas.
When NOT to Ingest Essential Oils
Even the oils that can safely be ingested should not be ingested by everyone! With young children there is no need for internal use – topical and aromatic will sufficiently do the job! Oils should only very sparingly be used internally during pregnancy, and preferably under the guidance of a knowledgeable mentor. Stephanie Fritz, The Essential Midwife, is an excellent reference for mums-to-be and new mums alike, so I frequently recommend her book, Essential Oils for Pregnancy, Birth & Babies, which you can purchase here: http://bit.ly/SFritz-EOPregnancy-Birth-Babies.
Additional Resources
In the event that you still have reservations on the internal use of essential oils, here are some other resources for you to peruse:
https://doterra.com/US/en/blog/science-safety-physiology-safe-to-ingest-essential-oils
https://doterra.com/US/en/blog/science-safety-physiology-internal-use-essential-oils
http://www.optimalhealthnetwork.com/FDA-Approved-for-Internal-Consumption-s/745.htm
My hope is that you will reap even more benefits from your precious dōTERRA oils now that we have thoroughly dispelled the myth that essential oils should never be ingested and provided guidance on safe internal use!
Still have questions? Please leave them below! And don't forget to share this article with anyone who may still have doubts about the internal use of pure essential oils. xo Dr. Marissa