Is anyone else missing the beach as much as I am?
Since it may be a while, I decided to bring a bit of the beach to me! This DIY salt scrub includes uplifting essential oils and skin nourishing coconut oil – perfect for dry winter skin AND, with the holidays coming up, this makes a great hostess or teacher gift!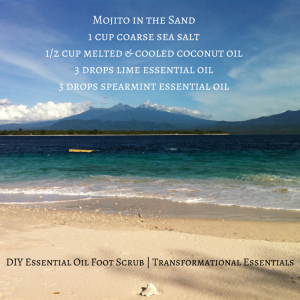 Directions: Pour salt into a 10oz glass jar with lid, then add coconut oil and essential oils and stir well. Pamper yourself with this scrub up to twice per week. Just scoop out a small amount into hand, gently rub into skin then rinse with warm water. Store in a cool, dry place.
Have you tried this recipe with a different blend of essential oils? Share your favorite blends in the comments!