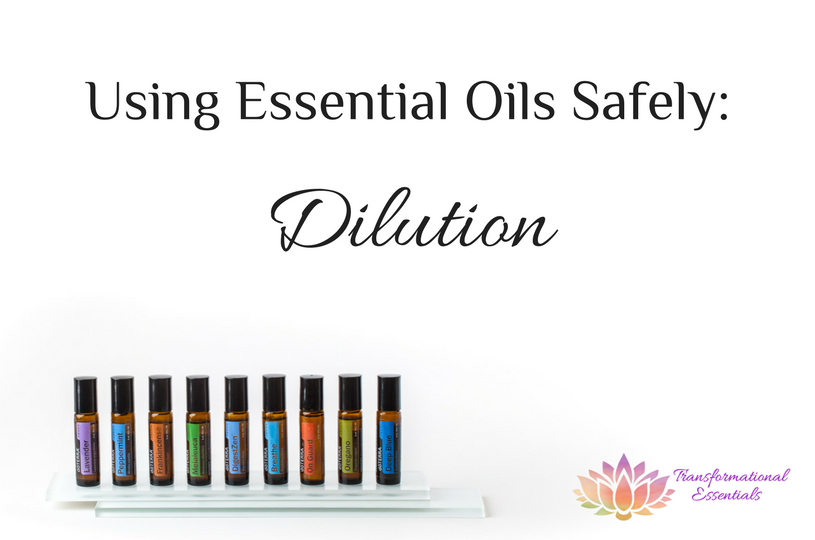 Using Essential Oils Safely: Dilution
As with all things health related – be it homeopathic, natural or prescription – user safety is a top priority. In fact, safety concerns are often what lead people to alternative options like essential oils in the first place, but in order for them to live up to their reputation of being gentle, yet effective, you must know how to use your oils!
One of the first things I teach people about using essential oils safely includes learning how to dilute them for topical use. Yes, you can use many oils 'neat' – or straight from the bottle – like lavender or frankincense, as long as you are using Certified Pure Therapeutic Grade, but just because you can use many oils undiluted does not mean you should. Essential oils are potent, so just a drop or 2 goes a long way. Add that drop or 2 to a carrier oil and you are getting way more use out of that tiny bit of oil.
All About Carrier Oils for Topical Use
Dilution for Children
Now what about kids in the house – are essential oils safe for the littles in my life? Yes! In fact, many oils can be used with children from birth, as long as they are used appropriately.  Grab your 5ml & 10ml, your list of kid-friendly oils and keep this Quick Dilution Guide handy and you are ready to go!
More Resources
Still have lingering questions? Peruse the articles below, or feel free to reach out to me directly.
To Dilute or Not to Dilute – from Fall 2015 LIVING Magazine
Exploring Aromatherapy: Methods of Application – National Association for Holistic Aromatherapy
Now that you know how to safely dilute essential oils for use with the entire family – don't keep it to yourself! Share this information with your other naturally minded friends.